Who am I?
name [rommy.romster]
a.s.l [29.male.jakarta]
work [IT.Projects]
status [married]

Contact Me!
ShoutBox
Recent Blog Post
Blog Archives
Photo Gallery
Mailing List
Portfolio
GuestBook
Search
Blog Community
Blog Friends
Visitors
[blog] throw pebble rocks / sambit-sambitan
yuk kita main kata bersambit... alias posting berantai.. topik kali ini adalah [my musical baton] dari Yana.. dengan menjawab 5 pertanyaan dibawah ini.. ikutan jawab ya di blog kalian masing-masing..

1. Berapa total besarnya kumpulan file musik (dlm format MP3) di komputer?
+ sekitar 3-4 GB mostly Indonesia and US TOP 40 hits, R&B tunes, vocal jazz sounds, etc

2. CD/Kaset yang terahir dibeli?
+ Paling sering beli kaset, biar bisa diputer di mobil, penghibur dikala macet-suracet, jakarta gitu loh.. Kalau CD jarang banget beli karena masih tergolong mahal, secara dengan membeli kaset ASLI, menghindarkan kita dari membeli CD bajakan.. setuju!!!

Koleksi Kaset terbaru:
a) Indonesia Idol 2 edisi Cinta (not recommended deh.. bagusan AFI 2005 kali.. ntar dibikin posting khusus bahas kaset ini)
b) Tangga (demen banget ama lagu terbaik untukmu, sebuah kolaborasi empat penyanyi dengan background yg berbeda (model, bintang sinetron, olahragawan, dll), dengan nuansa R&B yang kental, lagu-lagunya lumayan enak namun teknik vokalnya kurang diasah dan agak kurang mulus di beberapa lagu)
c) Project Pop - Pop Circus (wahaha lucu banget nih album dan kreatif banget gitu loh..)
d) Hitch - Soundtrack (filmnya okay, soundtracknya juga okay dengan pilihan R&B songs yang sing-able dan dance-able)

3. Lagu yang sedang diputar sekarang?
+ Tangga - "Terbaik Untukmu"

4. Lima lagu yang sering diputar atau memiliki makna tertentu bagi yang bersangkutan?
+ kok cuma lima sih.. setiap lagu bermakna bagi setiap kesempatan.. cie cie cuih.. berikut list lima lagu yang bermakna.. it's all about love baby..

a) Overjoy - originally sang by Stevie Wonder...
frequently performed in concert by Brian McKnight and Keith Martin...

"Over time, I've been building my castle of love
Just for two, though you never knew you were my reason
I've gone much too far for you now to say
That I've got to throw my castle away

Over dreams, I have picked out a perfect come true
Though you never knew it was of you I've been dreaming
The sandman has come from too far away
For you to say come back some other day"

b) Officially Missing You by Tamia

"Well, I wish that you would call me right now
So that I could get through to you somehow
But I guess it's safe to say, baby, safe to say
that I-I'm officially missin' you"

c) Tetap Milikmu by Digta

"hapus air matamu
aku tak ingin kau menangis lagi sayang
yakinkan hati diantara resahmu
diriku takkan memilih meninggalkanmu

sekian waktu bersama
tak mudah tuk menepis semua kenyataan
kita berbeda jalani keyakinan
tapi kau yang kuinginkan dari segalanya"

d) Over You, sebuah tembang lawas dari Anne Murray

"I guess I never will be over you
I have tried but it's so hard to do
I'm surrounded by the memories
No, I never will be over you
Time goes by and I'm still holding on
Waiting for the day when you come home"

f) Destiny's Child - Happy Face


"Woke up and realized this world's not so bad after all
Looked at it through a child's eyes, and I saw these beautiful
Things that you never think about
Like the ocean, moonlight, stars and clouds
It's amazing how we don't appreciate our blessings

There's plenty of people who don't like me
But since there are more who love me and I love myself
Sometimes, it gets tough, it gets tough
But I can't give up, can't give up
Just take a deep breath, close my eyes
Feel the love and give a smile"

5. Lima orang yang menerima lemparan baton berikutnya?
a) gank blogger_narsis, agar makin narsis dan teteup exist, mohon kudu diposting
b) anak2x blogbugs
c) ibu2x blogfam
d) lenongers dari tukanglenong
e) last but not least adalah para pengunjung setia rommy.co.nr.. tanpa kalian, gw bukan apa-apa *cieeeeeeh*
[idol] dapet tiket gratis
Asyik!! dapat tiket nonton Indonesian Idol spektakuler show gratis dari RCTI, cuma ikutan kuis di websitenya RCTI gitu..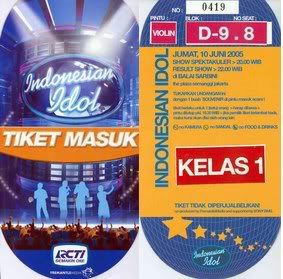 [tv show] idola Indonesia
Indonesia Idol Season 2 telah mulai. Sayangnya finalis tahun ini tidak berimbang dengan 9 finalis laki-laki dan 3 finalis perempuan. Kalau American Idol tahun ini, finalisnya imbang 6 laki-laki dan 6 perempuan, karena pada saat babak kualifikasi, pesertanya dipisah laki-laki dan perempuan.
Mau lihat aksi mereka, lihat di:
Indonesian Idol on RCTI
Official Indonesian Idol
Idol on Fox
Mau ikutan quiz berhadiah tiket nonton konser spektakuler, lihat di:
RCTI bagi-bagi 10 pasang tiket per minggu
boleh.com bagi-bagi 3 pasang tiket per minggu